EU Funded Projects
DTSL is actively involved and has participated in several EU funded projects – FP7, COSME, Erasmus+, Eureka and Cost Action frameworks. As a consortium partner we deliver and support the keys areas of talent and innovation, dissemination, exploitation, and sustainability of projects and the on boarding of industry and enablement of the wider ecosystem engagement into those projects. With an extensive network both in Ireland and across Europe, we can be your consortium partner of choice.
We actively engage in the drafting of the proposal by bringing a process, a toolkit, and a strategic framework to consortium proposals. Identifying other potential consortium partners is within our remit, leveraging our unique position in the Irish ecosystem as a key player in the Quadruple Helix.
Current Projects Include:

2020-2022 Embrace
Website and follow us on LinkedIn Interested in read our Blogs
The EMBRACE project is a three-year Erasmus funded project, comprising of ten consortium partners. The project's objectives are to promote Corporate Social Entrepreneurship (CSE) in HEI educational programmes and improve students' competences, employability and attitudes contributing to the creation of new business opportunities dealing with social change inside companies as well as promoting collaboration among companies.
Corporate Social Entrepreneurship
Corporate Social Entrepreneurship (CSE) is 'a way of doing business' so that all staff in any given organisation (public, private or third sector) are fully aware of their role, responsibility, and contribution to the sustainable socioeconomic enhancement of their organisations and the communities in which they live and work. The CSE process includes creating an enabling entrepreneurial environment, fostering corporate social intrapreneurship, amplifying corporate purpose and values as well as building strategic alliances in order to solve economic and social problems and to promote the success of emerging innovative business strategies.
Outputs – Click on each item to access the report.
Handbook for Corporate Social Entrepreneurship
Comparative Analysis of Practices of Corporate Social Entrepreneurship
Review of Corporate Social Entrepreneurship (CSE) Programmes in HEIs
Corporate Social Entrepreneurship Curriculum

2020-2024 European Software Skills Alliance
Website and follow us on LinkedIn and access our Ezines
Digital skills shortages are hampering the growth and competitiveness of companies across the whole of Europe. In 2017, more than half of EU enterprises that recruited or tried to recruit ICT specialists had difficulties filling their vacancies, and the situation was particularly acute when it came to advanced digital skills required for specialist ICT positions in Software Services.
There are a wide variety of occupational profiles in the ICT sector, and with digital transformation being adopted by almost every company in Europe, ICT roles now need to be filled right across the economy, not just within technology companies. This exponential growth in the number and variety of ICT roles is creating a huge demand for highly skilled and experienced ICT professionals throughout Europe.
Although the number of skilled ICT positions is increasing rapidly, the learning pathways for many digital jobs are becoming shorter but much more specialized. This presents an opportunity for the Vocational Education and Training sector to meet the growing skills demand by delivering fast track digital upskilling programmes to the widest possible group of potential ICT employees from across the whole of Europe.
This can be achieved by the introduction of innovative approaches to digital upskilling within non-tertiary and tertiary level VET to deliver intensive and highly effective training programmes, the adoption of new digital technologies for teaching and learning to reach the widest possible target group, along with revised or reinvented occupational profiles and competences designed to focus VET programmes on delivering trained ICT specialists with the right digital skills to match the right job profiles.
Software Services is one economic sector that would benefit hugely from a new Sector Skills Strategy, with innovative VET programmes designed to match specific occupational profiles in software, creating new opportunities for people from different age groups and backgrounds to access these positions and ensuring continuous upskilling and reskilling through a lifelong learning approach.
In order to realise this opportunity, a unique Sector Skills Alliance was assembled that brings together twenty six key stakeholders from across the ICT sector to co-create a new Sector Skills Strategy for software services. The European Software Skills Alliance includes leading ICT representative bodies, software services employers, education and training providers, recruitment and career specialists, digital skills regulatory bodies and a broad selection of stakeholders and social partners from across the industry; all working together to develop, implement and disseminate a new Sector Skills Strategy that will tackle the current and future skills shortages in the European Software Sector, enabling continuous growth, innovation and competitiveness within the Industry.
September 2021 will be an exiting month for ESSA as it marks the launch of the website and the first significant results, an in-depth study of market needs and educational offering gaps in software skills.
Outputs Click on each item to access the report
Software Skills Strategy for Europe
2020-2024 CERCIRAS – Cost Action – OC-2019_1-24104 Connecting Education and Research Communities for an Innovative Resource Aware Society
Website and follow us on LinkedIn
Parallel computing platforms have revolutionised the hardware landscape by providing high-performance, low-energy, and specialized (viz. heterogeneous) processing capabilities to a variety of application domains, including mobile, embedded, data-centre and high-performance computing. However, to leverage their potential, system designers must strike a difficult balance in the apportionment of resources to the application components, striving to avoid under- or over-provisions against worst-case utilisation profiles. The entanglement of hardware components in the emerging platforms and the complex behaviour of parallel applications raise conflicting resource requirements, more so in smart, (self-)adaptive and autonomous systems. This scenario presents the hard challenge of understanding and controlling, statically and dynamically, the trade-offs in the usage of system resources, (time, space, energy, and data), also from the perspective of the development and maintenance efforts.
Making resource-usage trade-offs at specification, design, implementation, and run time requires profound awareness of the local and global impact caused by parallel threads of applications on individual resources. Such awareness is crucial for academic researchers and industrial practitioners across all European and COST member countries, and, therefore, a strategic priority. Reaching this goal requires acting at two levels: (1) networking otherwise fragmented research efforts towards more holistic views of the problem and the solution; (2) leveraging appropriate educational and technology assets to improve the understanding and management of resources by the academia and industry of underperforming economies, in order to promote cooperation inside Europe and achieve economical and societal benefits.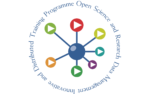 2020-2023 TrainRDM
Open Science (OS) opens up new ways in which research, education and innovation are undertaken, archived, curated, and disseminated across the globe. Open Science is not about dogma per se: it is about greater efficiency and productivity, more transparency, and a better response to interdisciplinary research needs. But OS requires a cultural change in academic institutions, including the acquisition of new knowledge and skills in fields like open access publishing and research data sharing. Master's and PhD students, and Early Career Researchers in general, can be arguably harbingers of change within the traditional system of academic science and publishing, and OS is key factor driving this change.
Yet, this change may take more time than expected unless fostered especially regarding practices in OS. It is therefore required a favourable, rewarding environment, where there are opportunities to acquire awareness and knowledge and develop OS relevant skills. In their advice paper on OS and the role of universities, the League of European Research Universities (LERU) highlights the education and skills training of all people in the universities as one of the eight OS pillars. Many universities develop and deliver their own training, while others work with external providers.
TrainRDM aims to empower the Education and Skills dimension of OS through exploring innovative mechanisms and tools to provide the skills training in particular for and Research Data Management (RDM) good practices.
TrainRDM aims to empower the Education and Skills dimension of OS through exploring innovative mechanisms and tools to provide the skills training in particular for and Research Data Management (RDM) good practices.
The project's objectives are as follows:
To analyse and map the skills training needs for OS and RDM in existing curricula in partner HEIs taking into account the different OS dimensions, target groups and level of existing knowledge;
To review existing good practice in OS and RDM skills training;
To develop a OS and RDM Training Methodological Toolkit;
To develop, validate and diffuse a quality pilot training programme for OS and RDM;
To develop a training network around OS and RDM concepts;
To encourage, motivate, support and recognise staff and students skills development in OS and RDM.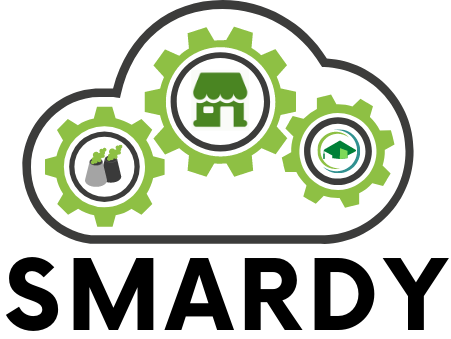 2021-2024 SMARDY
Smardy will develop a research data marketplace for technology transfer built as a software and data carpentry (i.e., developing and teaching workshops on the main data skills required to conduct research), where academia, industry, and government can exchange curated datasets, technology, and tools to foster economic and social development.
From a business perspective, such a marketplace puts together data producers and data consumers to foster the delivery of cross-cutting solutions based on an open innovation model. The incentive for researchers and research organisations is twofold: they get the chance to accept who gets to use their own data and under what terms—an innovation leveraging distributed ledger technologies—and they get paid while sharing their data in a pay-per-access fashion.
From an economic perspective, the marketplace integrates tools for smart semantic discovery of relevant data, while promoting an Open Source culture where researchers do not need to pay for re-executing experiments if redundant. Thus, research funding has a chance to propel the advance of technology on the shoulders of already-existing findings.

Imagine a scientist producing state-of-the-art data-intensive (Big Data) experimental findings with significant global impact. Traditionally, she/he would publish a paper summarising the results. However, the datasets and tools behind this experiment are equally, if not more, important that the sole description of such results and the conclusions reached. One could argue about the importance of the use of an open access repository to share data to increase dataset reusability. However, there is not yet a clear open mechanism to trace how data is further used by others and, possibly, monetise their use.
SMARDY Goals:
G1. Exploit and build on existing open software systems, frameworks, and standards such as public/private cloud infrastructures and distributed ledger technologies;
G2. Develop and evaluate open innovation mechanisms for scientific data specifically with respect to marshal data curation, traceability, and accessibility;
G3. Verify that FAIR principles have been properly met for the distributed open big data, that is processed and generated within research contexts and environments;
G4. Intelligently control and coordinate data gathering and processing within a myriad of contexts and environments;
G5. Demonstrate the applicability of the project technologies with respect to real-world technology transfer environments;
G6. Ensure the uptake of project technologies by engaging with relevant developer and user communities (including data scientists and industry) by producing a marketplace and technology roadmap, and by pursuing other innovation and exploitation activities that aim to maximise market potential in the long term, including implementing an open data strategy to disseminate the project results.
---
Completed Projects:
2015-2019 ICT COST Action IC1406 High-Performance Modelling and Simulation for Big Data Applications (cHiPSet)
The Big Data era poses a critically difficult challenge and striking development opportunities in High-Performance Computing (HPC): how to efficiently turn massively large data into valuable information and meaningful knowledge. Computationally effective HPC is required in a rapidly increasing number of data-intensive domains, such as Life and Physical Sciences, and Socioeconomic Systems.
Modelling and Simulation (MS) offer suitable abstractions to manage the complexity of analysing Big Data in various scientific and engineering domains. Unfortunately, Big Data problems are not always easily amenable to efficient MS over HPC. Also, MS communities may lack the detailed expertise required to exploit the full potential of HPC solutions, and HPC architects may not be fully aware of specific MS requirements.
Therefore, there was an urgent need for European co-ordination to facilitate interactions among data-intensive MS and HPC experts, ensuring that the field, which is strategic and of long-standing interest in Europe, develops efficiently – from academic research to industrial practice. This Action provided the integration to foster a novel, coordinated Big Data endeavour supported by HPC. It strongly supported information exchange, synergy and coordination of activities among leading European research groups and top global partner institutions and promoted European software industry competitiveness.

2014-2017 eDIGIREGION
eDIGIREGION, a unique collaborative project that brings together four high-potential research-driven clusters in diverse European regions (South East Ireland, Central Hungary, Castilla-La Mancha, Spain and Bucharest-Ilfov, Romania). The aim of eDIGIREGION was to use the triple helix partnership to plan, design and implement an ecosystem of research, innovation, creativity, and commercialisation that supports the implementation of the EU Digital Agenda in each region. An immensely successful project which resulting in the authoring of three books on best practices for developing inter and intra-regional joint action plans, regional innovation ecosystems and the benchmarking of those ecosystems. Link to the Guides

2015-2017 CECIL
CECIL was one of the 6 Cluster Excellence projects financed by the European Commission and the only one focused on Digital Creative Industries. The Cluster Excellence Programme of the European Commission is aimed at strengthening the cluster management excellence in the EU as a way to provide more professional business services to European SMEs through clusters and therefore contribute to the development of more world-class clusters in the EU. The overall objective of the CECIL project was therefore to strengthen cluster management excellence, and hence, top professional cluster services for the Digital Creative Industries, where the role of clusters is particularly relevant as drivers of innovation and competitiveness.