Technology Ireland ICT Skillnet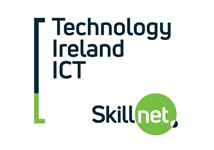 This is a government funded and industry-led project – the largest in the Skillnet Ireland family of over 70 networks. Working under the aegis of Technology Ireland in Ibec, DTSL has responsibility for the overall management of this project. A turnkey service from implementation to completion each year.
Overall Dimensions of the Project
Promote the network and its offering in order to: attract new members and previously active members.
Engage with members on an ongoing basis to diagnose current and future business and learning requirements.
Plan, procure, co-ordinate, quality assure and evaluate training delivered by the network.
Co-ordinate and/or engage in training programme development, design and customisation.
Deliver contracted targets while adhering to the overall aims and objectives of ICT Skillnet.
Arrange networking events and other informal learning activities that strengthen member company relationships.
Manage relationships with stakeholders including member companies, steering group members, providers, awarding bodies and Skillnet Ireland, as well as additional sectoral or regional stakeholders.
Ensure robust financial management of the network, including activities associated with budgeting, forecasting, collecting match funds, cash flow, procurement and authorisation of expenditure.
Manage financial/operational risk to protect the reputation of the ICT Skillnet, Ibec and Skillnet Ireland.
Oversee and/or engage in administrative tasks, including records management, data collection and entry.
Participate in Skillnet Ireland Development Programmes for network managers.
Support the implementation of enabling plans associated with Skillnet Ireland Statement of Strategy.
Conduct all network duties in accordance with Skillnet Ireland Funding Agreement and Operating Guidelines, and engage with the network's dedicated Programme Support Manager.
In summary the involvement of DTSL covers:
Strategic Development
Maintaining the Networks' effectiveness within industry
Overseeing all Financial and Operational objectives
Communications & Marketing
Management of Stakeholders